WHO WE ARE
Our mission is to transform the lives of students – especially those who will be first in their families to attend college – by preparing them for success in college, career, and life.   In three Bay Area schools and through coaching and consulting around the country, Envision prepares students for success through its acclaimed and nationally replicated Portfolio Defense model.  This model delivers the most important tools students need to thrive: leadership skills, academic content, the ability to reflect, and a mindset for growth.
WHAT HAVE WE LEARNED ABOUT TEACHING AND LEARNING?
We have learned that students and teachers have many of the same needs — that in order for teachers and students to be successful, they both need opportunities that are:
Grounded in strong relationships:

Relationships provide the places for reflection and growth that are critical for real, sustained growth and change.
Sustained and sustainable:

Learning and teaching are ongoing processes: all people need time and ongoing opportunities to integrate new ideas and knowledge.
Experiential:

The most effective way to learn is to DO—to take the building blocks you're given and make your first, second and third attempts to do something with them  
WHAT HAVE WE LEARNED ABOUT STUDENTS SHARING THEIR LEARNING?
The Portfolio Defense model is, essentially, based on students sharing their learning with authentic audiences, through multiple defenses, exhibitions and presentations throughout their time in our schools.  Sharing knowledge and insights helps students integrate information, empowers them to own their ideas, and helps them connect to new people and contexts.  The act of sharing keeps the learning alive and relevant and encourages future growth.
Do you want more information?  If so, please contact Justin Wells, Executive Director of Envision Learning Partners at justin@envisionlearning.org
WHO WE ARE
HTH is an integrated network of thirteen public charter schools serving approximately 5,300 students in grades K-12, as well as an attached Graduate School of Education. Our schools are intentionally diverse and integrated, enrolling students through a zip code-based lottery to achieve a representative population. Teachers recognize the value of having students from different backgrounds working together, and employ a variety of approaches to accommodate diverse learners without academic tracking.
WHAT HAVE WE LEARNED ABOUT TEACHING AND LEARNING?
At High Tech High, we have learned that engagement, ownership, and a sense of belonging are central to student learning.  Students pursue their passions through projects that integrate hands and minds, incorporate inquiry across multiple disciplines, and result in meaningful and beautiful work. We have also learned that the way we teach adults should mirror the way that we teach students. For example, we ask new teachers to publicly share their learning at the end of our new teacher orientation, so that they can experience what they are about to ask their students to do.
WHAT HAVE WE LEARNED ABOUT STUDENTS SHARING THEIR LEARNING?
When students share their learning, the stakes are raised, not just for the students, but also for the adults who work with those students. Asking students to share their learning publicly causes students and teachers to step up their game and produce higher quality work.
Do you want more information?  If so, please contact Ben Daley, Provost of High Tech High Graduate School of Education, bdaley@hightechhigh.org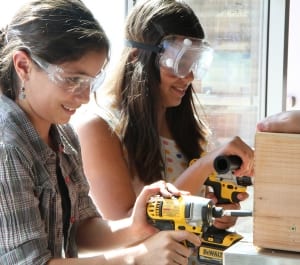 WHO WE ARE
For over 20 years, Big Picture Learning has worked to put students at the center of their own learning. Today, hundreds of BPL network schools in the United States and around the world work together and in their communities to reimagine and reshape education. It is our vision that all students live happy and successful lives of their own design — in their education, careers and civic experiences — supported by learner-centered communities, caring mentors, strong inter-personal relationships and equitable opportunities to achieve their greatest potential.
WHAT HAVE WE LEARNED ABOUT TEACHING AND LEARNING?
For us — and for our network schools — there are three key ingredients to effective teaching and learning in a deeper learning environment. Pay attention to the whole student. Relationships with learners are built on finding out about their interests, passions, experiences, challenges, community and family; not just their grade point average and college they wish to attend. We focus on students' strengths, not their weaknesses. We build upon what they're good at, what they love doing, in order to inform opportunities where there might be gaps in learning. Finally, we encourage students to "leave to learn", by embracing the opportunities to flourish that exist in their communities — beyond the school walls, often through internships and mentorships.
WHAT HAVE WE LEARNED ABOUT STUDENTS SHARING THEIR LEARNING?
There is something inherently democratic about allowing students to demonstrate their learning in different ways. Whether it's presentations of learning, exhibitions, student-led conferences, speeches, music-recitals, or the serving of a four course meal, we know that there are many ways beyond standardized assessments that allow students to illustrate what they've learned. In Big Picture network schools, public exhibitions are celebrations of learning. They are opportunities to invite the community in, just as the community itself has invited Big Picture Learning students "out". In this way, we're creating a continuous loop — the school is as important to the community as the community is to the school.
For more information, please contact Chris Jackson, Chief Communications Officer, Big Picture Learning, at chris@bigpicturelearning.org. 
WHO WE ARE
At the Buck Institute for Education, our highest priority is to help teachers prepare students for successful lives. We do this by showing teachers how to use Project Based Learning in all grade levels and subject areas. As a mission-driven nonprofit organization, Buck creates, gathers, and shares high-quality PBL instructional practices and products and provides highly effective services to teachers, schools, and districts.
WHAT HAVE WE LEARNED ABOUT TEACHING AND LEARNING?
We have seen how Project Based Learning can be transformative for students, especially those furthest from educational opportunity. By presenting students with a mix of choice and responsibility, cognitive concepts and practical activities, within an environment of real-world authenticity, projects engage students in learning that is deep and long-lasting. Project Based Learning unleashes a contagious, creative energy among students and teachers.
WHAT HAVE WE LEARNED ABOUT STUDENTS SHARING THEIR LEARNING?
One of the Essential Project Design Elements in our Gold Standard PBL model is "Public Product." In a high-quality project, students make their work public by sharing it not only with the teacher but also with each other, their school community, and sometimes experts and other people beyond the classroom. This occurs both during a project, as part of the product development and formative assessment process and at its conclusion, when the product is shared and discussed with an audience. This public process and final presentation encourages students to improve the quality of their work and demonstrates what students know and can do. For more, read this blog post by one of our National Faculty: "5 Reasons to Showcase our Project Based Learning."
Please visit www.bie.org to learn more about our work or contact our editor in chief, john@bie.org.
WHO WE ARE
CraftEd Curriculum is dedicated to making high quality PBL a passionate connection point for educators and their students. We have worked with schools across from over 27 states, spreading HQPBL as far as Australia, China, Canada and Mexico. As an organization committed to making PBL accessible to students of any grade level, anywhere, we offer in-person, hands-on informative and motivational workshops as well as books, workbooks, virtual coaching, and any other materials that help teachers continue their mission to continuously deepen their learning and student engagement in their classrooms.
WHAT HAVE WE LEARNED ABOUT TEACHING AND LEARNING?
PBL transforms everyone it touches: students, teachers and members of the community. With it, learning becomes an active part of our social connection. The difference between doing PBL and finding sustained success with PBL lies in committing to professional development. As educators absorb the work, it becomes a regular, natural and ongoing part of the classroom experience. . Just as we treat our students as individuals, Professional Development and PBL training cannot be a "one-size fits all" approach. When we customize PBL training and are responsive to see how PBL can best address the unique community in which we are teaching, the results can be extraordinary.
WHAT HAVE WE LEARNED ABOUT STUDENTS SHARING THEIR LEARNING?
With proper guidance, students become more excited about sharing their learning and learning period. They start to see themselves as important members of their community with something important to offer, and they start to dream about the possibilities for their role going forward. To best support these students in sharing their learning, we need to support teachers who are willing to make this huge shift – such as exhibiting student work publicly or running Student Led Conferences. They need a detailed roadmap – a calibrated vision, specific planning resources, and supported planning time. Giving them this specific guidance makes the difference between doing something once and truly breeding it into the school culture. When we offer educators more thorough guidance, when we take the time to find and train to the unique needs or challenges of their school or district, we serve their students with authentic learning experiences.  When students share their learning, they can feel that their families, friends and community are cheering them on their educational journey. See CraftED's PBL Blog to read more.